The toll from recent hurricanes has been well documented in main stream press with countless homes, businesses and areas seriously impacted. For the RV and camping industry the devastation has been wide spread in Texas and Florida. This impact while being felt by the locals and business owners now could have an impact on RV travelers during the coming "snow-bird season".  To find out how the hurricanes will impact the winter RV season the team at CampgroundViews.com reached out to our contacts to gauge the overall damage, status of repairs and impact on travelers. Many RVers are currently wondering if their favorite park is back in business or if they will be by the time the winter camping season begins in November.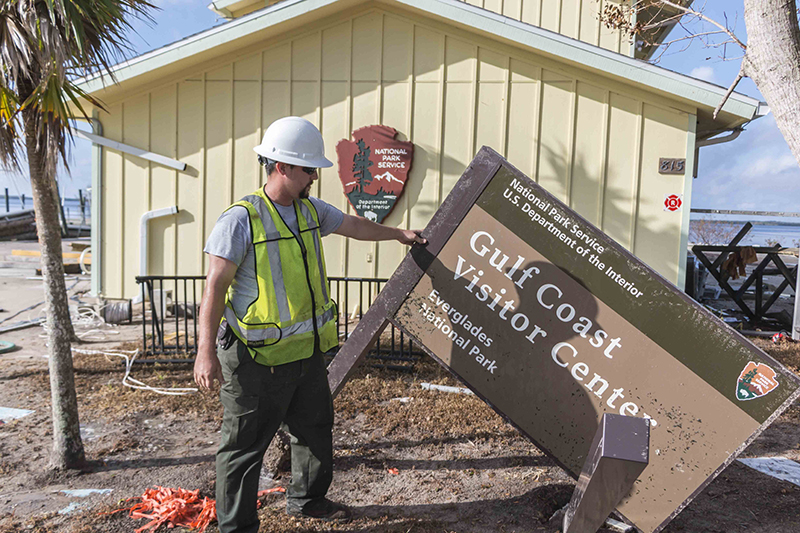 The unique nature of RV parks and campgrounds makes them a bit more difficult to gauge in comparison to homes and businesses in a disaster area. For RV parks, at the basic level, all they need is functioning electric, safe drinkable water and a place to dump the tanks (either at each site or in a communal dump). The logistics of providing these types of services is not overly complex and there is an economic motivator for owners to bring these services up to par as fast as possible. Many of the temporary workers that will be hired to rebuild communities along with residents of those communities can more quickly be sheltered in mobile units, ie RVs, creating a significant profit reward for parks that get back up and running quickly.
To get a grasp of potential impacts we reached out to the local RV associations in Texas and Florida to get their take on what is happening and what has happened to parks in their areas.
Texas RV Parks after Hurricane Harvey
Hurricane Harvey caused significant flooding in addition to wind damage to the areas impacted by the storm. The eye of the Hurricane crossed over the very popular Rockport and Aransas Pass area dealing a direct blow to the region. For RVers this is a big deal as parks in this location are a prime destination for winter visitors. Most media reports focused on the immediate after-effects and damage to RV and mobile home parks due to the nature of any sitting unit… they tend to get tossed and blown around. The dramatic pictures make for impactful reporting but they don't really address the overall impact on parks.
We reached out to the Texas Association of Campground Owners (TACO) for updates on what they are hearing from their member parks. We spoke with Lisa Rhodes, Member Services, who confirmed that parks were damaged as a result of Hurricane Harvey with many being impacted by downed trees, limbs and loss of power. She added that the latest updates are that a large portion of the parks that have not yet re-opened (a number have) will be re-opening in the next few weeks. The vast majority, if not all of them, will be back up, open and ready for winter visitors.
For Houston area parks the word is that most escaped the storm with only minor damage. While many highways and streets did flood the vast majority of the parks escaped with only minor damage and are already back and open for business.
For travelers this winter in to the Texas area impacted by Hurricane Harvey the overall impact on your travels appears to be relatively minor to non-existent. TACO invites you to continue with your plans to visit the area as your presence will help locals through additional revenue and a feeling of normalcy that returns with regular business as usual. Texas is open and ready for winter RV travelers.
To find information on all the parks in this area click here.
Florida RV Parks after Hurricane Irma
In the days leading up to landfall of Hurricane Irma the forecast track had the storm barreling a path straight up the middle of the state. This forecast track would have resulted in a worse case scenario for the state of Florida with un-heard of devastation to the entire region. At the last minute Hurricane Irma drifted 50 miles to the west and tracked along the West Coast of the State. Following a glancing blow off Cuba the storm lost some punch and while devastating to specific regions spared large swaths of the state from the forecast "end of days" scenario.
The Florida Keys
Unfortunately for the Florida Keys the storm did wreak significant damage to the more populated areas including Sunshine Key/ Big Pine Key, Islamorada, and areas in central part of the Keys. The Florida Keys, by their very nature, are low lying strips of land subject to significant damage from storm surge. The Keys were heavily impacted by Hurricane Irma with most reports noting significant damage to all habitable buildings on the islands. As of this posting the islands are still not open to non-residents past the mid-way point (although they are expected to open soon).
We reached out to a number of the parks we work with along the Keys and received reports that some are back up and running with limited amenities (for example some have electric but no water) while others are still removing debris. The Florida Keys will likely be open for business by the winter RV season BUT you will have to gauge the level of services available as your travel time nears.
Florida Association of RV Parks & Campgrounds Executive Director Bobby Cornwell reports that the parks located on the two ends of the Keys (beginning and end) made it through the storm in better shape compared to parks right in the middle. Specifically of note are Fiesta Key RV Resort and Sunshine Key RV Resort operated under the Encore and Thousand Trails brands. These two parks received significant damage and are not yet open. Also the following popular parks are closed as of this report:
Sugarloaf Key / Key West KOA
Big Pine Key Fishing Lodge
Bahia Honda State Park
Marathon Marina RV Park
Bluewater Key RV Resort
Curry Hammock State Park
Boyd's Key West Campground (Limited services planned to re-open on Oct 1)
All of the noted locations, and even the lesser known locations, are actively repairing and preparing to re-open. Some of the closed parks plan to re-open as soon as October 1 with limited amenities. You can search out the parks of your choice by clicking here. (Note: we have found that it is often easier to get a status on their repairs by looking at their Facebook page).
Florida West Coast
Florida Association of RV Parks & Campgrounds Executive Director Bobby Cornwell reports that the rest of the parks in the state are either open or will be re-opening soon. Overall the RV parks and campgrounds in Florida made it through with only the standard Hurricane style damage of downed trees, power lines and flooding. Florida State Parks are re-opening for day use now with camping facilities being brought back online as the locations are cleared for safety. This type of damage is relatively easy to repair.
Overall for the state of Florida things are rapidly returning to normalcy and Mr. Cornwell invites the millions of winter visitors to continue with their plans to visit the state this year.
FARVC has a dedicated page for updates here on their Facebook page.
Hurricane Impact on Winter Visitors
With the rapid rebuilding and infrastructure repairs already started and or completed it appears that winter RV travelers to the Southeastern United States will not be impacted. For snowbirds looking to escape to the warmer weather in Texas and Florida and wondering whether it will be possible all of our information points to a resounding "Yes". Your travel and stay in these areas is an important part of their local economies and will help them rebuild to get back on with normal daily life. As you begin your travels in to the area there will be ample opportunities to volunteer and help repair and rejuvenate damaged areas.
For more information on places to stay click here and search by city, county, point of interest or other geographical feature.
Do you have any information on parks in the Hurricane zones? Use the comment section below to let everyone know.